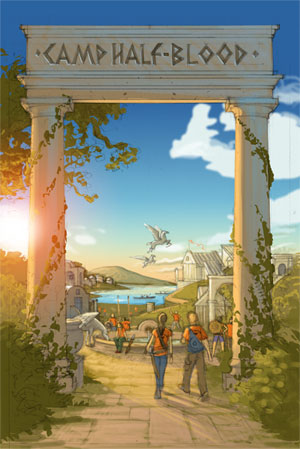 ---
"This," Lyca Raffles loudly proclaimed to the columns flanking the Camp's entrance, "friggin' blows." The columns, unsurprisingly, did not reply.
She'd arrived back at Camp Half-Blood earlier that day, and so far as she knew not a soul had noticed. That burned her pride something fierce, almost as much as that damnable prohibition against leaving. As near as she could tell, it wasn't magically enforced--she'd slipped her Ring on earlier and played hopscotch across the border, just to prove that she could--but that didn't make it any less binding. She could always leave, take her Ring, and vanish. Oh, Hades would be pissed, but he'd never be able to find her, as long as she had her Ring. She'd get away clean.
Lyca sighed. She'd said that last time too. Look where it had gotten her. Besides, if she left now, she'd be penniless; Hades undoubtedly had his toadies watching her accounts, and they'd trace any withdrawal in a heartbeat. A cold two hundred million, she reflected mournfully. It wasn't as though she had anything to spend it on, but even so, simply having it was a comfort. She'd rather not throw it away if she could avoid it. Closing her eyes, she rested her head against the column. "Shit, she muttered. "Shit, shit, shit."
"Ah," said a deep, unamused voice from somewhere behind her. "Wallowing in self-pity, I see." Lyca spun to face the speaker, and fell on her ass in her haste. She did her best to make it look intentional, sitting with her back to the column.
The newcomer stood between Lyca and the sun, casting her into shadow. He was tall and dark haired, and his face resembled nothing so much as a remix of the most infamous personalities of the 20th century. She recognized him instantly: Hades, eldest of the so-called Big Three, ruler of all that lay beneath the earth, lord of the dead, one of the most powerful and dreaded beings in the universe, and the reason she was trapped in this stupid kiddie sleepaway camp. In short, he was not a figure to be taken lightly.
"Go screw yourself," Lyca snarled, "You limp-dicked corpsefu-" Hades held up one hand, and black flames blossomed in his palm. Lyca quickly amended her rhetoric. "Corpse... fun. Corpsefun. You great, wonderful, corpsefun guy."
Hades extinguished the flames and lowered his hand. "I have a task for you."
"And I'm sure your penis is very firm, not limp at all--I mean, not all the time, that'd be something to see a doctor about, but-" Hades said nothing, only stared. Lyca shut up.
"Are you," Hades enunciated clearly, "quite done?"
"Yes," Lyca said.
"Very good." Hades studied his nails. "As I said, I have a task for you. The first of the favors you owe me." He looked up. "You will, of course, have to leave the Camp to complete it."
Lyca tried to contain her excitement. "What's the job?"
"As much as it may chagrin you to know it," Hades said, "you are not the only thief to have had the better of me recently. Someone has taken my Horn. I want you to steal it back."
"Your Horn," Lyca said musingly. "I imagine that Queen Persephone's quite upset about the... loss."
"You do know that I'm just as capable of incinerating you now as I was three seconds ago, right?"
"Oh, yeah, I forgot. I'm sorry. I'm sure your wife is very happy and well satis-"
"Enough," Hades said. "Find the Horn. It is a bone drinking horn, intensely magical and covered in carvings. Bring it to me in the Underworld personally. Use whatever resources you deem necessary, but do not tell the Camp staff or any other gods about your mission. I would not want the other gods to learn of my weakness. Should I be disappointed in this, you would not enjoy the consequences. Specifically...  You do remember the box, don't you?" Lyca paled and shrank back against the column. "I see that you do. So, are we
very
clear?"
Lyca licked her lips nervously. "Yes, Lord Hades."
"Good." Hades turned to go. "Do not fail me in this, Autolyca Jonquil Raffles. I will be watching." With that, she seemed to shrink into a pinpoint of darkness and disappear. Lyca continued to sit against the column staring at nothing in particular.
"Well, shit," she said. After a few minutes of abject self-pity, she rose and twisted her ring sharply on her finger, disappearing from view as her winged sneakers lifted her into the air. It was time to get to work. Silent as the wind, she flew to the Big House.